Bin Picking Tutorial: Setting up Photoneo Bin Picking Studio with UR robots
From 3D scanning Knowledge base - Photoneo wiki
1. Prerequisities
Photoneo UR Interface is compatible with Universal robots versions 1.8 and higher.
2. UR Controller setup
Following tutorial gives a step by step guide how to configure your UR controller and install all necessary UR scripts to get the robot interface for Photoneo Binpicking Solution running.
This tutorial was originally written using the latest UR v.3.5.1, however it should be compatible with older versions with minor changes. It is assumed that user has a basic knowledge of UR system and its configuration. In case you have never used this robot before, it is highly recommended to read basic [tutorials](http://www.zacobria.com/universal-robots-zacobria-forum-hints-tips-how-to/turn-on-power/) on Zacobria robot community forum for UR robots prior to installing Photoneo UR interface.
2.1 Network configuration
As a first step we configure network interface. Click Setup Robot -> Network to open robot's configuration:

Following configuration pane should appear. Select static address network method and configure IP settings to meet your network requirements. Apply when finished.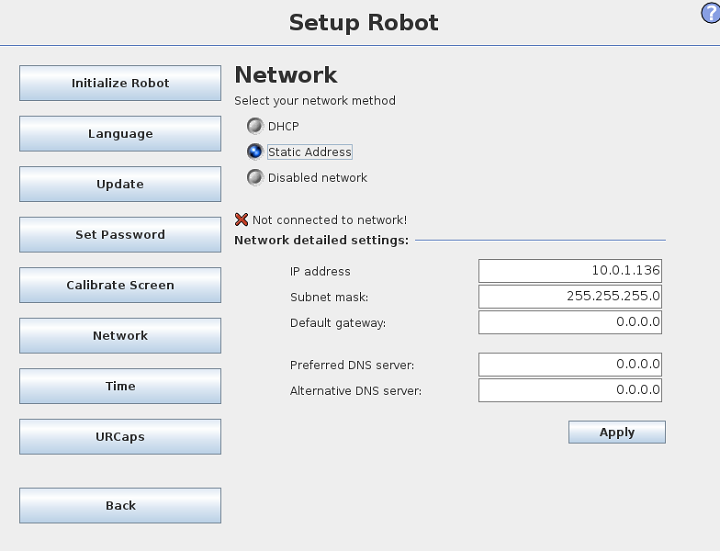 3. Install Photoneo program
As a next step we need to copy UR scripts from Photoneo UR USB stick to the robot controller. It is possible to perform this operation via Ethernet or using USB stick directly. In this tutorial USB option will be described:
Insert USB stick to the slot on the back side of the pendant. On the Main Robot screen select Program Robot -> Load Program:

You should see robot's filesystem pane. Select USB -> Photoneo and choose photoneo_module.urp

NOTE: If compatibility error occurs during program loading, it is recommended to create new program first. See section 3.3 for further information.

Nasledne je potrebne program ulozit do PC. Klik na 'file' a vybrat 'save as'
3.2 Cez ethernet scp
Subory do robota je mozne poslat aj vzdialenym pristupom napr. z Linuxu vyuzitim scp. V terminali je potrebne dostat sa do priecinku s robotickym programom nasledne cely priecinok nakopirujete prikazom:
scp -r Photoneo root@10.0.1.136:/programs/Photoneo

Po zadani hesla budu subory skopirovane, prednastavene heslo je easybot
poznamka – takisto sa da pripojit aj cez windows, raz mi to UR-kaci ukazali ako sa na vzdialeni pc pripojit cez Notepad++ a poslat subory
3.3 Vytvorenie programu
Opat hlavnej obrazovke (Prvy obrazok) treba kliknut na Empty Robot a zobrazi sa nasledujuce okno:
Na zaciatok treba zakliknut na obrazovke program checkbox add BeforeStart Sequence
Program pozostava z dvoch hlavnych casti: Before start a robot program.
Do before program je potrebne vlozit scripty, ktore su ulozene v priecinku Photoneo/scripts, bud na USB kluci alebo na skopirovanom priecinku cez scp.
Pridanie scriptu:
1. kliknut na BeforeStart na lavej liste
2. V strednom okne klinut na structure
3. Vybrat advance
4. Vybrat Script code
5. Opat v stredom okne kliknut na command
6. Vybrat file miesto line
7. Klik na edit
8. Klik na Open
9. Vo filesysteme vybrat USB->Photoneo->scripts->photoneo_script.script
10. Klik na Save a nasledne na exit
Uspesne nahraty script je zobrazeny na dalsom obrazku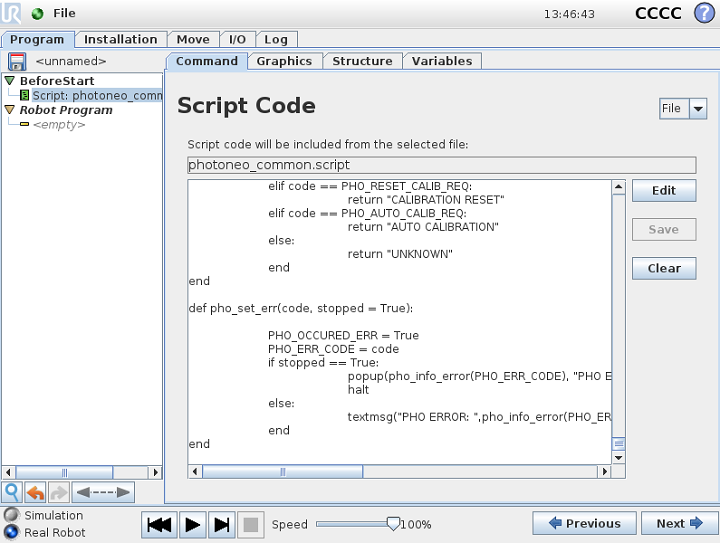 Do BeforeStart treba este pridat dalsi script customer_definitions.script pod photoneo_script.script. Cely postup je potrebne zopakovat od bodu 1
Ked su nahrate scripty je mozne pokracovat tvorbou celeho programu podla Photoneo UR API
4 Photoneo UR API