Difference between revisions of "Bin Picking Tutorial: Setting up Photoneo Bin Picking Studio with UR robots"
From 3D scanning Knowledge base - Photoneo wiki
Line 52:
Line 52:
 
 
 
 
−

Nasledne je potrebne program ulozit do PC

+

Nasledne je potrebne program ulozit do PC

 
 
 

=== 3.2 Cez ethernet scp ===

 

=== 3.2 Cez ethernet scp ===
---
Revision as of 12:50, 5 February 2018
1. Prerequisities
Photoneo UR Interface is compatible with Universal robots versions 1.8 and higher.
2. UR Controller setup
Following tutorial gives a step by step guide how to configure your UR controller and install all necessary UR scripts to get the robot interface for Photoneo Binpicking Solution running.
This tutorial was originally written using the latest UR v.3.5.1 (Screeny zo simulacie ale testovane na UR 1.8), however it should be compatible with older versions with minor changes.
Cely navod ako nastartovat a inicializovat robota: http://www.zacobria.com/universal-robots-zacobria-forum-hints-tips-how-to/turn-on-power/
2.1 Network configuration
Klik na setup robot
Klik na Network
Vybrat static adress a vyplnit IP a subnet mask. Klik na apply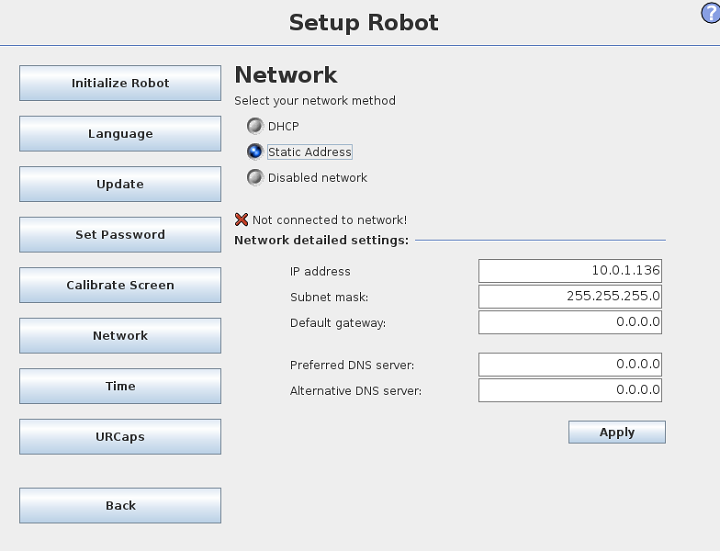 3 Install Photoneo program
Je viacero sposobov ako dostat program do kontroleru – pouzitie USB alebo Ethernetoveho kablu
3.1 USB
Vlozit USB do pentantu zo spodu V hlavnej obrazovke (Prvy obrazok) kliknut na Program Robot a nasledne kliknut na Load.
Zobrazi sa filesystem robota. Kliknite na USB->Photoneo a vyberte program photoneo_module.urp
Pokial sa pocas otvarania programu vyskytla chyba s kompatibilitou UR verzii, je vhodne vytvorit si program na novo (Opis v kapitole Vytvorenie noveho programu)

Nasledne je potrebne program ulozit do PC. Klik na 'file' a vybrat 'save as'
3.2 Cez ethernet scp
Subory do robota je mozne poslat aj vzdialenym pristupom napr. z Linuxu vyuzitim scp. V terminali je potrebne dostat sa do priecinku s robotickym programom nasledne cely priecinok nakopirujete prikazom:
scp -r Photoneo root@10.0.1.136:/programs/Photoneo

Po zadani hesla budu subory skopirovane, prednastavene heslo je easybot
poznamka – takisto sa da pripojit aj cez windows, raz mi to UR-kaci ukazali ako sa na vzdialeni pc pripojit cez Notepad++ a poslat subory
3.3 Vytvorenie programu
Program pozostava z dvoch hlavnych casti: "Before program" a "robot program". Do before program je potrebne vlozit scripty, ktore su ulozene v priecinku Photoneo/scripts, bud na USB kluci alebo na skopirovanom priecinku cez scp.